C Logistics Solutions Re-Certified for the Handling & Transport of Cyanide
19th December 2017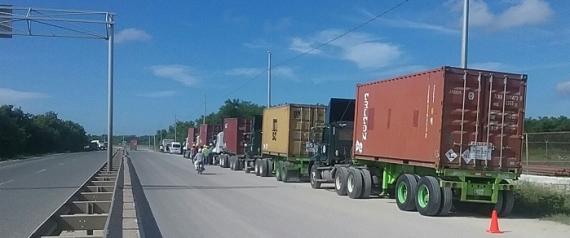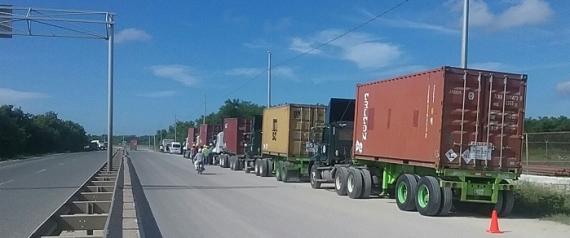 Members in the Dominican Republic, C Logistics Solutions are pleased to announce their successful tri-annual re-certification by the International Cyanide Management Code for the handling & transport of Cyanide (www.cyanidecode.org).
The basic standards of practice of the code includes:
Protect communities & the environment during cyanide transport;
Establish clear lines of responsibility for safety, security, release prevention, training & emergency response in written agreements with producers, distributors & transporters;
Require that cyanide transporters implement appropriate emergency response plans & capabilities as well as employ adequate measures for cyanide management.
All of which is not an easy task, involving coordinating and working with 8 Government institutions and directing the escort of the Cyanide containers consisting of 5 vehicles, police outriders and a total of 25 participants.
Alex Booth at C Logistics Solutions explains; "A typical convoy begins upon the exit of the containers from Caucedo (DP World), where they, along with chassis & trucks, are inspected and their conditions registered. Then, a brief meeting is conducted with all the members of the convoy to review the trajectory and make any adjustments as directed by the police and military escorts as well as re-affirm the details of the convoyed journey including weather conditions, velocity, lane changing etc."
"The convoy, a total of 10 vehicles and outriders, moves on a pre-approved route, skirting North of the city of Santo Domingo and joining the main northbound highway till the cut off heading into the interior of the island toward the gold mine. This can take approximately 4 hours in total if no problems arise such as breakdowns, punctures etc."
"So far, we have handled a total of around 60 convoys without any serious incidents that could cause a danger to the community or environment. As part of the Cyanide Code certification, we maintain regular training programmes and simulations which not only include the operating team of the convoys but also the Government institutions involved. We have frequent liaisons and interaction with the National Emergency Operations Centre (COE) (www.coe.gob.do) and the Civil Defense & National Emergency Commission (CNE) (www.defensacivil.gov.do) coordinating their involvement in any potential emergency response."
Please click below for some photos of a recent convoy and a cyanide incident simulation conducted by C Logistics Solutions.