Membership List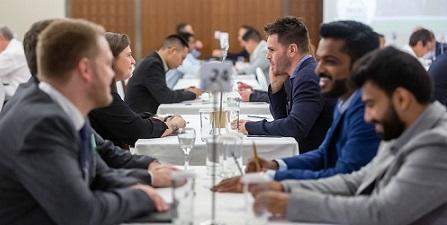 Our Members meet in person every year at our Annual Summit and we carry out regular Evidence Audits and Quality Control Surveys to ensure only the top industry specialists retain membership. If you are interested in joining, please email us or apply online.
Please feel free to learn more about PCN via our video library.
We provide our Members with a bespoke Meeting Hub where they can connect virtually using the platforms that have now become an essential part of daily life including Zoom, Google Meet, Skype, and WhatsApp.
PCN proudly contains 344 specialist companies in 126 countries:
Afghanistan: Goodrich Logistics Private Limited
Afghanistan: Msharib Shipping & Logistics (MSL)
Albania: Shega Trans
Angola: Pinto Basto
Argentina: Centauro
Argentina: RUCA Logistics S.A.
Argentina: Shipway SA
Australia: EFM Management Australia
Australia: Freightplus (Australia) Pty Ltd
Australia: Sadleirs Global Logistics
Australia: Spark Global Logistics Pty Ltd
Australia: WRL Shipping Australia Pty Ltd
Austria: ACS Logistics GmbH & Co KG
Austria: Gebrüder Weiss GmbH
Azerbaijan: Absheron Logistics Center
Azerbaijan: RETEMS Logistics LLC
Bahrain: Aqua Global Logistics WLL
Bahrain: Consolidated Shipping Services W.L.L. (CSS)
Bahrain: Phoenix Shipping W.L.L.
Bangladesh: Conveyor Logistics Ltd
Bangladesh: Goodrich Logistics Private Limited
Bangladesh: SafeSea Bangladesh Ltd
Bangladesh: Shodesh Shipping & Logistic Company
Belgium: ABL NV
Belgium: Aprojects Belgium NV
Belgium: Europe Cargo bvba
Belgium: Remant Africa Logistics NV
Benin: OMA Logistics Benin
Bolivia: Scharff Logistica Integrada
Bosnia and Herzegovina: Delta Transportni Sistem (DTS)
Brazil: CTO Global Logistics
Brazil: DC Logistics Brasil
Brazil: Double Star Logistics do Brasil Ltda
Brazil: Hansa Meyer Global Transportes Internacionais Ltda.
Brazil: Speak Logistics Transportes Internacionais Ltda
Bulgaria: STM Group Ltd
Bulgaria: TEU Bulgaria LLC
Burkina Faso: OMA Logistics Burkina Faso
Cambodia: Bee Logistics Corporation
Cambodia: Worldwide Shipping Service (Cambodia) Company Limited
Cameroon: OMA Group (Gespros)
Canada: C.H. Robinson Project Logistics
Canada: Canaan Shipping Co Ltd
Canada: Convoy Logistics Providers
Canada: Safesea Shipping Group Ltd
Canada: SCACLI
Chile: HMGS Chile Soluciones de Transporte Ltda
Chile: Integral Chile SpA
Chile: Logistic Partners Chile SpA (LogPar)
China: Columbia Pro-Rail Transport Services
China: Global Star Logistics (China) Co Ltd
China: Guangzhou Eversail Logistics Co Ltd
China: Hannational Shipping Co Ltd
China: Topline Express Logistics
Colombia: Anker Logistica y Carga SAS
Colombia: Schryver de Colombia S.A.S.
Colombia: Transintercargo Logistica Ltda
Colombia: VAL Logistics
Costa Rica: A&E Freight Logistics
Costa Rica: Rex Cargo Costa Rica S.A.
Costa Rica: SPC Logistics
Croatia: Intereuropa Global Logistics Service
Croatia: TransOcean Shipping Ltd
Cyprus: Zero Time Services Ltd
Czech Republic: Livo Logistics
Czech Republic: ZOOM Cargo s.r.o.
Democratic Republic of the Congo: Genesis Logistics Ltd
Denmark: 3p Logistics
Denmark: FREJA Transport & Logistics
Denmark: NTG Air & Ocean A/S
Djibouti: Freight in Time SARL
Djibouti: Maritime Transport International S.A.R.L (MTI Logistics)
Dominican Republic: Agencias Navieras Rannik
Ecuador: Consolidadora Calderon SA
Ecuador: Logistica Maritima Integral SA (MARILOGINSA)
Ecuador: Schryver Del Ecuador
Egypt: First Global Logistics
Egypt: Interlog International Logistics
Egypt: MGL Cargo Services LLC
Egypt: On Time Shipping for Maritime and Transport
El Salvador: Rex Cargo El Salvador S.A. de C.V.
Estonia: 3p Logistics OÜ
Estonia: CF&S Estonia AS
Estonia: ScanMarine Estonia Ltd
Ethiopia: Freight in Time Logistics plc
Ethiopia: Trade Desk Trading PLC
Finland: Ahola Special
Finland: CHS Air & Sea Oy
Finland: FREJA Transport & Logistics Oy
Finland: Hacklin Logistics Ltd
France: B-FLEXEE
France: France Cargo International SA
France: Groupe BBL
France: LD Freight Solutions
France: Philco International
Gambia: Istamco Gambia
Georgia: M-Star Projects powered by Herfurth Logistics
Germany: CargoCrew International GmbH
Germany: CTO Germany GmbH
Germany: HBH Logistics GmbH & Co. KG
Germany: Interfracht Air Sea Land Service GmbH
Germany: Monnard GmbH
Ghana: Ansahdys Shipping Logistics
Ghana: BAJ Freight and Logistics Limited
Ghana: COMEXAS Ghana
Ghana: OMA Logistics Ghana Ltd
Ghana: Sealand Shipping and Inland Services
Greece: Cargo Experts Ltd
Greece: Delta Maritime P.C.
Greece: Goldair Cargo SA
Greece: Hermes Group SA
Greece: TEU Shipping & Forwarding Group
Guatemala: Rex Cargo Guatemala S.A.
Guyana: Ramps Logistics
Guyana: Shipping Solutions and Services Guyana Inc.
Honduras: Rex Internacional Honduras S.A.
Hong Kong: OLA Groups Logistics
Hong Kong: Parisi Grand Smooth Logistics Ltd (PGS Logistics)
Hungary: Austromar Kft.
Hungary: TransOcean Shipping Kft
India: Express Global Logistics Pvt Ltd
India: Logistics Plus India Pvt Ltd
India: Premier Global Logistics Ltd
India: Procam Logistics Pvt Limited
India: Vangard Logistics Pvt Ltd
Indonesia: PT. Berlian Dumai Logistics (BDL)
Indonesia: PT. GAP Logistics
Indonesia: PT. Perdana Transline Logistik
Indonesia: PT. Royal Logistics Indonesia
Iraq: Al-Marasi International Company
Iraq: Blue Bell Shipping LLC
Iraq: Grand Arabia Forwarding and Logistic Services
Iraq: Zarawa Company
Ireland: Curtis & Lees Ltd
Israel: Gold Line Shipping Ltd
Israel: Jacky Line
Israel: Kamor Logistics
Israel: Zior Ltd
Italy: Agenzia Marittima Mattera
Italy: Fortune International Transport SRL
Italy: Livo Logistics
Italy: Punto System
Italy: W.I.S.
Ivory Coast: COMEXAS Cote D'Ivoire
Ivory Coast: Goodrich Logistics Côte d'Ivoire SARL
Ivory Coast: OMA Logistics Côte d'Ivoire
Japan: Interfracht Japan
Japan: ITOCHU Logistics Corp.
Japan: Naigai Trans Line Ltd
Japan: Nisshin Transportation Co Ltd
Jordan: Grand Arabia Forwarding and Logistic Services
Jordan: Seven Seas Logistics Services Company
Kazakhstan: A.R.T. Logistics
Kazakhstan: Eleven Danir 19
Kazakhstan: Goodrich Central Asia LLP
Kenya: Freight in Time Ltd
Kenya: Grindrod Logistics Africa
Kenya: Offshore Global Logistics Ltd
Kenya: Sovereign Logistics Limited
Kuwait: Al Bader Shipping & Gen. Cont. Co. W.L.L.
Kuwait: ATLAS (Alghanim Freight)
Kuwait: Dolphin Shipping & Logistics
Kyrgyzstan: Eleven Danir 19
Latvia: CF&S Latvia SIA
Latvia: Eleven Danir 19
Latvia: KGE Baltic SIA
Lebanon: Global Cargo Line
Liberia: Stewart Corporation
Lithuania: 3p Logistics
Lithuania: A.R.T. Logistics, UAB
Lithuania: CF&S Lithuania Ltd
Lithuania: UAB ScanMarine Lithuania
Malawi: Grindrod Logistics Africa
Malaysia: Ceekay Shipping Sdn Bhd
Malaysia: Kagayaku Logistics (M) Sdn Bhd
Malaysia: Megalift Sdn Bhd
Malaysia: MS Global Freight Solution Sdn Bhd
Malaysia: Tera Projects & Shipping Sdn Bhd
Malta: O&S Shipping Ltd
Mauritania: OMA Group (ACT)
Mauritius: OMA Group
Mexico: FTGV Transport Logistics Cargo
Mexico: JM Logistic Services S.A. de C.V.
Mexico: Kronoz Internacional Inc
Mexico: Noatum Project Cargo
Mexico: Trafiver Logistics S.A. de C.V.
Mongolia: A.R.T. Logistics Limited
Montenegro: Delta Transportni Sistem (DTS)
Morocco: Lasarte Maroc
Morocco: LoadLine
Morocco: We Logistics
Mozambique: Grindrod Logistics Africa
Mozambique: Tschudi Mozambique Limitada
Myanmar: Bee Logistics Myanmar Co Ltd
Myanmar: Nisshin (Myanmar) Co Ltd
Namibia: Grindrod Logistics Africa
Namibia: Woker Freight Services (Pty) Ltd
Netherlands: Heavy Load Service (HLS) B.V.
Netherlands: M-Star Projects powered by Herfurth Logistics
Netherlands: Megagon Project Solutions B.V.
Netherlands: Nunner Logistics BV
New Zealand: Freight Direct NZ Limited
Nicaragua: Rex Cargo Nicaragua S.A.
Niger: OMA-Gescom
Nigeria: International Express Logistics Services Limited
Norway: Best Global Logistics Norway
Norway: NTG Air & Ocean AS
Oman: Comprehensive Consolidated Trade & Shipping LLC
Oman: Khimji Ramdas Projects & Logistics Group
Oman: Muscat International Shipping & Logistics LLC (MIS)
Oman: Precious Logistics Services
Oman: Wilhelmsen Towell Co LLC
Pakistan: Emkay Lines Pvt Ltd
Pakistan: Msharib Shipping & Logistics Pvt Ltd (MSL)
Pakistan: Noble Shipping Services Pvt Ltd
Pakistan: Salamatak Private Limited
Pakistan: Star Shipping (Pvt) Limited
Panama: Rex Cargo Panamá S.A.
Panama: Upcargo Inc
Paraguay: Paramar SA
Peru: BHA Cargo Logistic Peru SAC
Peru: Scharff Logistica Integrada
Peru: Translogistics Solution SAC
Philippines: AAI Project Logistics Inc
Philippines: Explorer Freight Corporation
Philippines: Nonpareil International Freight & Cargo Services, Inc.
Philippines: Transmodal International Inc
Poland: 3p Logistics Sp. Z.o.o.
Poland: Avion Poland
Poland: Hecksher Polska Sp. z o.o.
Poland: Ocean Shipping Ltd
Poland: Polfrost Internationale Spedition
Portugal: Noatum Logistics Portugal, Lda
Portugal: NVO Xpress Transitarios
Portugal: Pinto Basto
Portugal: PROJECTCARGO Lda
Qatar: Aero Freight & Logistics W.L.L.
Qatar: JSL Global WLL
Romania: ABC Special Transport
Romania: COMPASS Logistics
Romania: Eastern Shipping SRL
Russia: ACROSS Logistics Solutions
Russia: Eleven Danir 19
Russia: Glogos Ltd
Rwanda: Africa Direct Ltd
Rwanda: Genesis Logistics Ltd
Saudi Arabia: Ark Global LLC KSA
Saudi Arabia: Consolidated Shipping Services LLC
Saudi Arabia: Glaube Logistics
Saudi Arabia: NATCO Middle East
Saudi Arabia: Paragon Saudi Services
Senegal: Goodrich Logistics SARL
Senegal: Istamco Senegal
Senegal: OMA Logistics Senegal
Senegal: SENTRAK Logistics
Senegal: Wilhelmsen Ships Service Senegal
Serbia: Delta Transportni Sistem (DTS)
Serbia: TEU Shipping & Forwarding Group
Serbia: TransOcean Shipping Ltd
Singapore: Central Oceans Singapore Shipping and Trading
Singapore: RIO Logistics (S) Pte Ltd
Singapore: WPC Marine & Offshore Services Pte Ltd
Slovenia: Centralog
Slovenia: Intereuropa Global Logistics Service
Slovenia: TransOcean Shipping Ltd
South Africa: Afriguide Logistics
South Africa: Grindrod Logistics Africa
South Africa: NATCO SA International Transports (Pty) Ltd
South Korea: Duck Yang ULC Co Ltd
South Korea: HNX Co., Ltd.
South Korea: Kimex Air & Sea Co Ltd
South Korea: Noatum Project Cargo
South Korea: PNS Networks Co Ltd
Spain: A. Perez y Cia S.L.
Spain: Martin Bencher Projects Spain
Spain: Noatum Project Cargo
Spain: Seatrans Maritime SA
Sri Lanka: Seiko Freight and Trading Pvt Ltd
Suriname: Ramps Logistics
Sweden: Hecksher Linieagenturer AB
Sweden: ScanProTrans
Sweden: Westdijk Sweden AB
Switzerland: Global Logistics Projects LLC
Switzerland: ITS International Transport & Shipping Ltd
Taiwan: EZ Link Corp.
Taiwan: Founder Air & Sea Cargo Co. Ltd.
Taiwan: Panda Logistics Co. Ltd.
Taiwan: Realco Logistics Ltd
Tajikistan: Eleven Danir 19
Tanzania: Genesis Logistics Ltd
Tanzania: Grindrod Logistics Africa
Tanzania: Magellan Logistics Tanzania Limited
Tanzania: Sunfresh Ltd
Tanzania: Tschudi Tanzania Ltd.
Thailand: Central Oceans (Thailand)
Thailand: Global Power Logistics Services (Thailand) Co Ltd
Thailand: MMP Logistics Co Ltd
Thailand: Whale Shipping & Freight Forwarder Co. Ltd.
Togo: OMA Logistics Togo
Trinidad and Tobago: Ramps Logistics Ltd
Trinidad and Tobago: Shipping Solutions and Services Ltd
Tunisia: All Seas Shipping Agency
Tunisia: Ocean Shipping
Tunisia: SMTI
Tunisia: SOCOTU (Societe Commerciale Tunisienne)
Tunisia: Tandem Logistics
Turkiye: BATI Shipping & Trading S.A.
Turkiye: Element International Forwarding & Logistics Ltd
Turkiye: MTS Logistics
Turkiye: Noatum Project Cargo
Turkiye: Origin Logistics
Turkmenistan: Hazar Tolkuny
Uganda: Freight in Time (U) Ltd
Uganda: Grindrod Logistics Africa
Uganda: Sea Horse Logistics Limited
Ukraine: Alphatrans Ltd
Ukraine: Autospectrans FFC LLC
Ukraine: Farcont Project LLC
Ukraine: Goodrich Logistics and Mercantile Limited Liability Company
United Arab Emirates: ISS Global Forwarding (ISS GF)
United Arab Emirates: Lintas Freight and Logistics LLC
United Arab Emirates: Masstrans Freight LLC
United Arab Emirates: Polaris Shipping Agencies LLC
United Arab Emirates: Wilhelmsen Ships Service
United Kingdom: Blaiklock International Logistics
United Kingdom: Central Oceans UK Shipping & Trading
United Kingdom: Rice Continental
United States: Breakbulk Transportation Inc.
United States: Express Air Freight Unlimited Inc.
United States: LEMAN USA Inc
United States: Seahawk Logitech Inc
United States: Thunderbolt Global Logistics LLC
Uruguay: Wide World Corporation
Uzbekistan: Ardena Transport
Uzbekistan: Eleven Danir 19
Venezuela: CPL Air & Sea C.A.
Vietnam: Bee Logistics Corporation
Vietnam: CEA Projects Co Ltd
Vietnam: Cuchi Shipping Co Ltd
Vietnam: Royal Cargo Vietnam
Vietnam: Vietnam Projects Transport Co Ltd (VN Projects)
Zambia: Genesis Logistics Ltd
Zambia: Grindrod Logistics Africa
Zimbabwe: Grindrod Logistics Africa