2021 Annual Summit in Croatia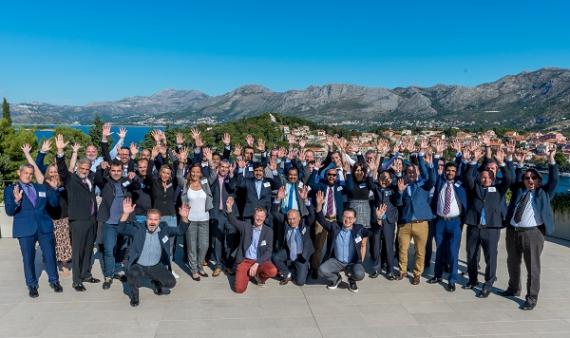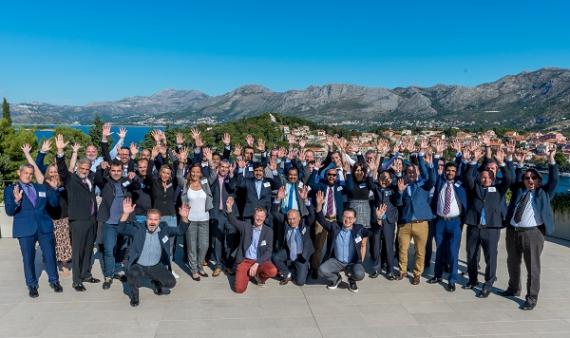 Our event took place from 17-19 October at Hotel Croatia, Cavtat
Project Cargo Network (PCN) has safely held one of the industry's first network meetings since the beginning of the pandemic in early 2020.
The event was held from 17-19 October 2021 at Hotel Croatia Cavtat, a leading five-star resort and conference centre enjoying spectacular views of the open sea and just 5km from Dubrovnik airport.
PCN President/C.E.O., Rachel Crawford said "We knew that there wouldn't be as many people as usual but after such a long time apart, we felt it was important to take the first steps in enabling people to safely meet face-to-face as the world begins to recover from the severity of the pandemic."
See gala dinner, meeting room and excursion photos.
The event welcomed representatives from Bangladesh, Belgium, Brazil, Bulgaria, Canada, Colombia, Croatia, Czech Republic, Egypt, Finland, France, Israel, Italy, Norway, Oman, Portugal, Romania, Saudi Arabia, Slovenia, Spain, Sweden, Taiwan, Turkey, UAE, and United Kingdom.
Rachel added "We are delighted with the success of our first event back since the pandemic. We took every precaution to ensure our delegates safety and well-being and followed the evidence from the Events Research Programme. Additionally, delegates were provided with free, easy to use Rapid Covid Test Kits, PCN Face Masks and Hand Gel."
The first chance that Members had to meet was at dinner together, followed by the exclusive use of the hotel's Posejdon Night Club where they enjoyed an open bar, catching up with each other and dancing into the night. The meeting was officially opened on Monday by PCN C.E.O., Rachel Crawford followed by a morning of 1-2-1 meeting sessions.
After lunch the group took a relaxing boat trip across the bay past Lokrum and City Walls to the Old Town, where they were taken on a short tour of the marble-paved squares and cobbled streets … plus an exciting cable car ride up Hill Srdj. When they reached the top, they were met with breath taking views. They then finished the afternoon with a delicious dinner in another stunning setting, Restaurant Victoria overlooking the Adriatic sea.
The meeting continued in the Congress Hall Ragusa on Tuesday with more 1-2-1 meetings, where delegates highlighted their specialist areas, discussed existing and new business. These sessions were especially important after the impact the COVID crisis has had on the industry …. there was much to discuss!
The event received fantastic feedback:
"As a new Member, it was a real pleasure to be part of such an event with members as professional as they are sympathetic. Venue and organisation are at the top too." Vincent Mullot, Group BBL (France)

"Nothing will, never ever, replace the human smile in person … a live conversation is great." Dejan Hervol, 2hm (Slovenia)

"Seeing old friends and making new ones, face-to-face, was great - bonding and hanging out in person again was very pleasant." Lovro Kleindienst, TransOcean Shipping (Slovenia, Croatia & Serbia)

"Indeed it's a great event and great location. Thanks for this event, a relief after global pandemic. Appreciate your efforts." Nidheesh Kurumangalath, Khimji Ramdas (Oman)

"Although my daughter's wedding is in 3 weeks' time, I couldn't resist to assist to this event dear to my heart. Believe it or not but I can now imagine how beautiful will be heaven. Thanks to all PCN members for your precious time dedicated to the meetings and thanks for giving me the hope that gatherings are still possible." Marc Gharabawi, MGL Cargo (Egypt)

"Thank you, all participants, Rachel and PCN team. It was great organisation, wonderful location and finally a big opportunity for catching up with each other to speak face to face." Capt. Caner Aydin, BATI Shipping (Turkey)

"My dearest friends, I am deeply grateful and honoured for your valuable time and important words! My respect for each one of your companies. I hope to be in service of you in Colombia with the standards of quality that you deserve. A warm hug wishing the best for you for the rest of this year and looking forward to raising again our glasses next year." James Ortiz, Anker Logistica (Colombia)

"Since our Botswana meeting (which was my last distant flight experience) I was dreaming of a new flight and a new PCN meeting! Finally, the dream has come true. Thanks to Rachel and Judith and to all the PCN family for the great experience, also the weather has been fabulous in Dubrovnik. We are very lucky - that's because Fortune is on your side!" Paolo Federici, FORTUNE International Transport (Italy)

"I want to take this opportunity to firstly say thank you for having the courage and the faith to put on this conference. It is not easy planning these events let alone during this pandemic. So, thank you in choosing a relaxing location here in Croatia. Although this year's turnout was not as busy as previous years, I thoroughly enjoyed a smaller group setting. In fact, it has given me a refreshed perspective on trying to stay more focused in my one-to-one meetings next year. Instead of a shotgun approach, I have a more definitive strategy with partners who I have worked with for many years and only leave 10 percent for new agents or replacements. The setting in Dubrovnik was magical, especially last night's location and dinner. The tour guides were great and educational." Patrick Lo, Canaan Shipping (Canada)

"Here is a small email with a big THANK YOU! In the name of the R&B small team , we were very pleased to see you and all the present members for the first time on PCN Conference this year, and exchange our introductions/contacts , enjoying a 360° open conversation of how further cooperation can bring us together in present and future business opportunities. It's always good to see pro-active members in the many (project) logistics groups floating around on the seas in our industry these days! I must say that maybe in some way the smaller size of the group this year gave us the possibility to speak even more close and deeper into some specific fields of interests with some members. From our side, we did not regret one minute to have become a new member in PCN. We thank you again for the exquisite organisation in this ever still difficult times, and we for sure will keep in close contact with most of the members as I am launching some enquiries even already now." Dave Roosen, R&B Global Projects Ltd (Croatia)

"Amazing! What a wonderful reception from all members. Thank you to all of you. I have no words to express the feelings. Thank you also Rachel and Judith for such well-organized meeting and for have choosing a great hotel. Well done and congratulations." Luisa Sousa, NVO Xpress (Portugal)