Delta Maritime with Transport & Installation of Compressors & Gas Turbines
6th November 2017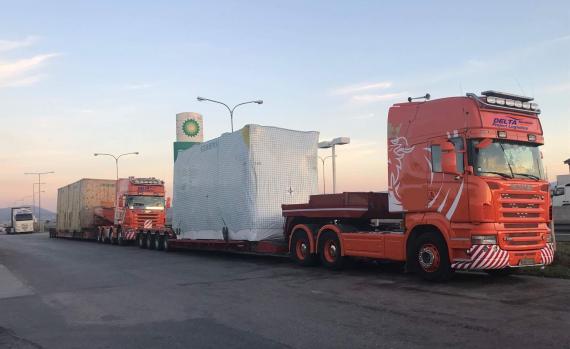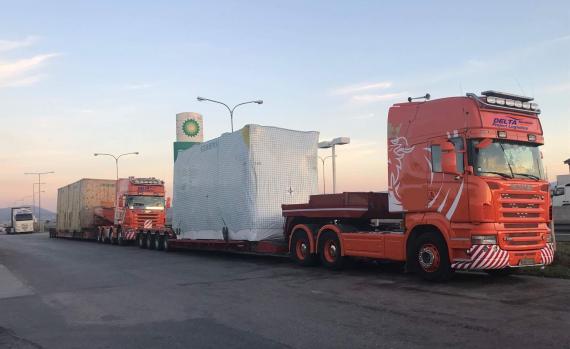 Delta Maritime have handled the transport and installation of Siemens turbo compressors and gas turbines in Northern Greece at the Evros Kipoi TAP Compressing Station.
The cargo consisted of 3 gas turbines (each at 36tns / 7.80 x 3.05 x 4.15m) and 3 compressors (each at 26.7tns / 6.20 x 3.68 x 3.94m) plus accessories with a CIF cargo value of €20,000,000. Delta Maritime took immediate receipt of the sensitive cargo at the Port of Piraeus and expertly handled the direct reloading from Mafis onto trucks with the use of a 160tn private shore crane.

Customs formalities for the valuable cargo was completed on the same day as its arrival in port before the on-carriage began in separate convoys using special low-beds trailers and escort cars passing the difficult and narrow roads close to the site.
The turbo compressors, gas turbines and accessories arrived at the Evros Kipoi TAP Compressing Station site where a 500tn shore crane, 5tn forklift and a hi-up crane waited to lift the cargo from the trucks. After the safe delivery, Delta Maritime's dedicated and experienced team then successfully installed the complete cargo on their foundations. Click below for photographs.
Athena Matlà of the Delta Maritime Customer Service Department comments; "Within November, an additional lot of 3 oil cooling units (at 10.7tns / 6.35 x 2.50 x 3.99m each) is scheduled to be delivered and installed at the same site."