Europe Cargo with Incredible Shipment to Japan
14th October 2016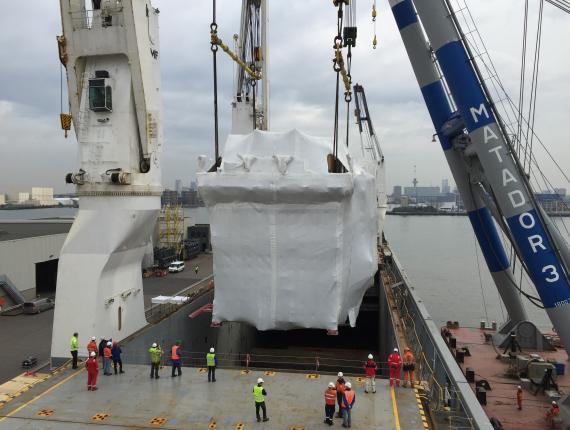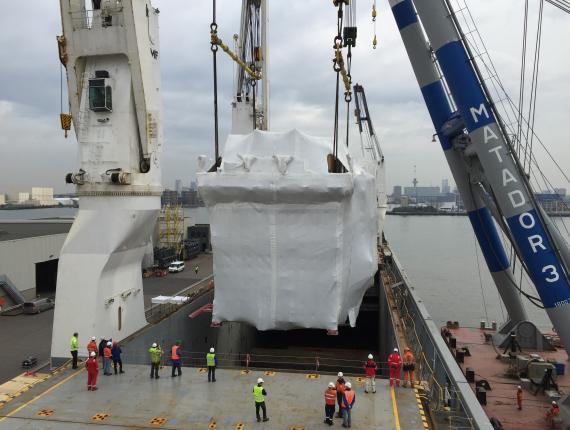 Belgian PCN members, Europe Cargo are pleased to share the below set of photos of a current incredible shipment to Japan.
The shipment consisted of 1 produced treatment module (which took 8 months to build at Hollandia Yard), 1 lifting frame, 2 boxes of slings and 8 pallets of shackles at a total weight of 469mtns loaded waterside from the Waalhaven terminal at Rotterdam in the Netherlands and transported to Okpo, Japan.
Anouschka de Haan of the Forwarding Department at Europe Cargo explains; "'MV HHL Tokyo' arrived one week before the loading operations were scheduled to begin in order to prepare the cargo hold and positioning of 4 heavy lift platform feet supports which were carefully measured out and welded into position ready for loading.
Once the cargo had arrived, it was welded onto the Hollandia pontoon alongside the vessel. After cutting and grinding operations were completed, the 'Matador 3' floating crane, with a 1,500mtn capacity, hooked the unit (dimensions of 18.6 x 16.7 x 19.1m) which had been properly wrapped in plastic with access to the top lifting points by special inside stairways.
The module was carefully placed into the 4 heavy lift feet supports with vibration pads placed between and cautiously welded onto the vessel's tank-top in the aft part of hold number 2. The lifting frame, which is to be used at the destination, as well as the spare parts, were handled in an indirect way by shore crane and placed in front of the module.
The welding took 4 days after the completion of loading, with intervals of 24 hours in-between for cooling as required for the NDT testing stipulated in the charter contract. The vessel then sailed with an open hold to the destination of Japan with a transit time of around 33 days."