EXG Transports First of 30 Huge Steel Decks for the Mumbai Trans Harbour Link Project
21st January 2022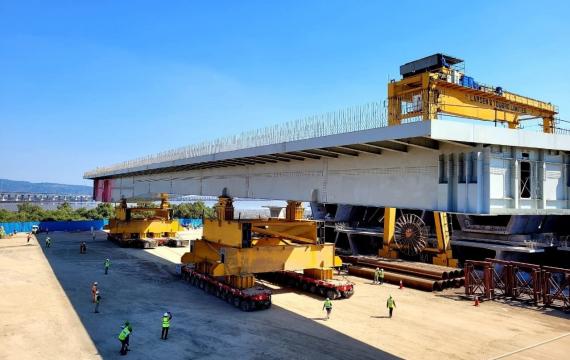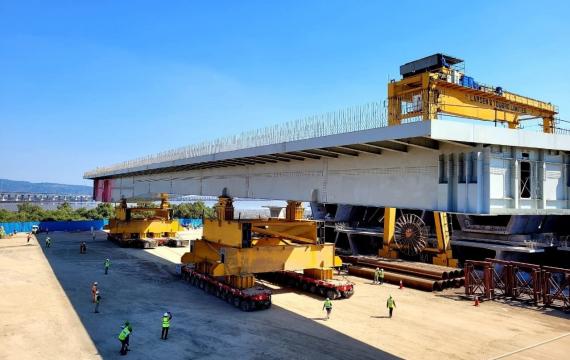 Members in India, Express Global Logistics (EXG) have successfully transported the first of 30 OSDs (Orthotropic Steel Decks) for the Mumbai Trans Harbour Link Project. The deck weighs an incredible 1,362mt and this is the first of 30 that EXG will handle for the project, totalling 40,860mt.
The transportation was done for one of the largest infrastructure projects in India, the 'Mumbai Trans Harbour Link Project (MTHL)'. The OSD measures 118.00 x 14.87 x 7.50m and was transported on 4 x 12-axle lines (48-axles) and 2 x 12-axle lines (24-axles) totalling 72 SPMT axle lines with 4 Power Pack Units (PPUs).
The first of the 30 pieces was moved from the manufacturing unit to the Kerosene Jetty where the load transfer from the SPMTs to skid chair car was completed.
Some salient features of EXG's operations included:
Being involved at the nascent stage of the project by supplying the SPMT stool structure design to the client;
Aligning the locking plate of the OSD on tilting hinges twice with a bare minimum tolerance of just 10mm - first on the axle during transport & second during the load transfer to the skid chair car;
Handling the special machinery with precision considering size & weight of the cargo;
Coordinating the transportation by factoring in high tide, that happens only twice a month at this jetty, for the smooth roll-on & roll-off movement;
Matching the project planning implementation in 2 days.
The EXG team's thorough planning to organise and prepare at the site before the movement of the cargo took place, allowed for a smooth execution of the project. They also ensured the highest safety standards whilst being committed to speeding up the transport. EXG comment that they are very proud to be associated with the prestigious MTHL Project.