Express Global Logistics Complete Transportation of Convection Module
22nd September 2017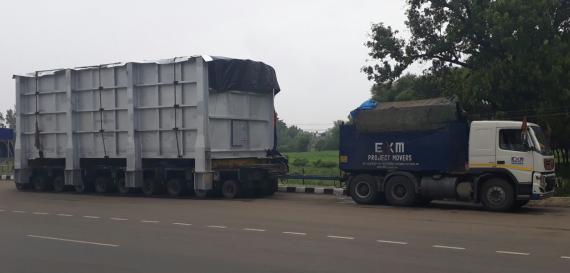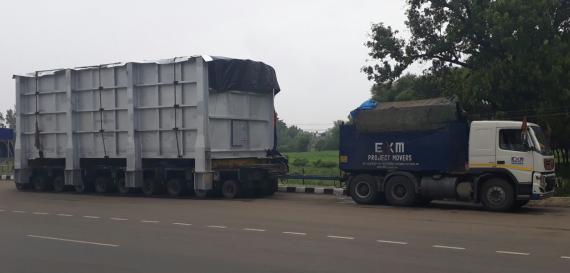 Express Global Logistics (EXG) are members in India and have successfully completed the national transportation of a convection module from Por to Gadepan. The challenging parts of the transportation was the height of the cargo with the stool base of the package coming below the level of the loading bed and passing through the flood hit areas of Gujarat and Rajasthan.
Nandit Dayal at EXG explains; "Our operation team professionally negotiated all the hurdles and delivered the package well within the allocated time at Gadepan through heavy rains & floods. Many LT wires had to be negotiated and for 3 HT wires, power shutdown permission had to be obtained from the local authority which was swiftly managed by the field staff without stopping the transportation.
The stool base of the package, which was below the axle bed, also required extra care during transportation because of speed breakers & turning of the axles. CAD software was used to assess the safe passage in critical turning roads and sideway obstacles. Also, due to the over-width of the package, it required the opening of sensors at three toll plazas with permission from the toll authorities to allow the cargo to move safely."
EXG once again completed the task successfully by safely delivering the job at customer's site in time. Please click below for photographs.
Express Global Logistics are project specialists, established in 1946 with headquarters in Mumbai, India. An asset based company with a pan-India presence, EXG are backed by their own fleet of Goldhofer hydraulic axles, cranes up to 450tns and warehouses.
Critical Operations
Transportation of package through flood hit regions and damaged roads
Negotiated with many electrical LT wires & HT wires, highway toll plazas and other overhead obstructions
Managing turning of axles as the stool base of the package was below the axle bed (restriction on wheel turning to 30°)
Project Details
Cargo Description: Convection Module
Dimensions: 12.4 x 5.2 x 5.5m
Weight: 65mt
Axle Combination: 1 puller + 10 Goldhofer hydraulic axles
From: Por, Baroda, Gujarat
To: Gadepan, Kota, Rajasthan
Distance: 853km
Route: Por - Ahmedabad - Palanpur - Pindwara - Mangalwad - Katoda - Gadepan