Express Global Logistics Successfully Handle Complex Operations for LPG Tanks
14th December 2016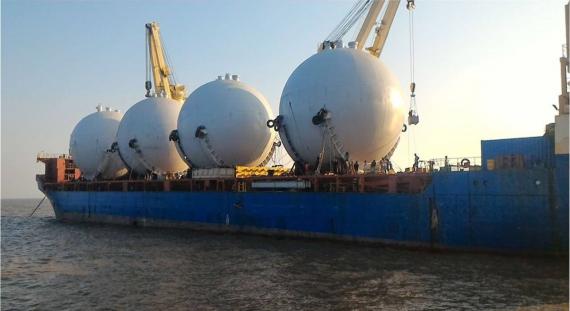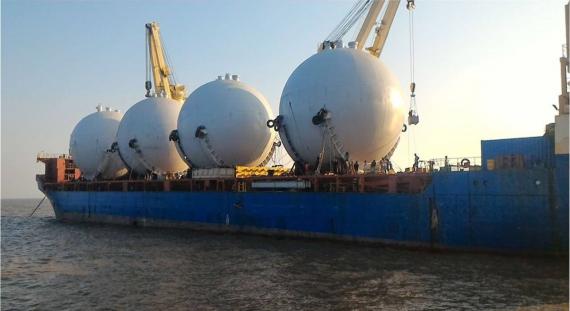 Indian PCN members, Express Global Logistics (EXG) has recently successfully relocated 4 huge LPG spherical tanks with 2,000m3 capacities from the shipwrecked carrier MV. Gazal at Alang Ship Breaking Yard in Ghogha, Gujarat.
A high level of precession needed to be maintained by the EXG team throughout the project which was conducted as per the tidal timings. Macqwin Fernandes at the company explains; "A single tow took around 12 hours to anchor the tank in such a position that they float during spring tides and can be towed out to feed the vessel. The tanks were anchored 250m from the shore to carry out the fabrication work.
The challenge was to stabilise the tanks and tugs in heavy currents to perform the hooking-on operations. For the lifting of the tanks we used a single crane lift of 400mt capacity at 18m, a spreader beam of 400mt capacity, 4 soft slings of 100mt capacity each and 4 shackles each of 120mt capacity.
Each tank had an approximate volume of 4,913m3 and the lashing was completed in two different operations. Firstly, hard lashing constituted welding the tanks to the saddle and securing the saddle by stiffeners along with 4 i-beams per tank. Secondly, soft lashing constituted wire rope integrated with shackles and turnbuckles. 40 wire ropes were lashed per tank to secure them mainly from the rolling of the ship."
Please click below for photos. The Express Global Logistics project team provided their client with a flawless operation carried out with proper planning and coordination. Another example of the range of work handled by EXG, showing their reputation as a leading project specialist in India.