Gebrüder Weiss and Fortune International Move 70T Boiler
31st July 2013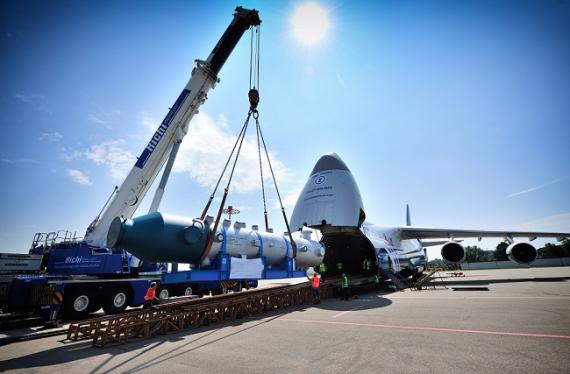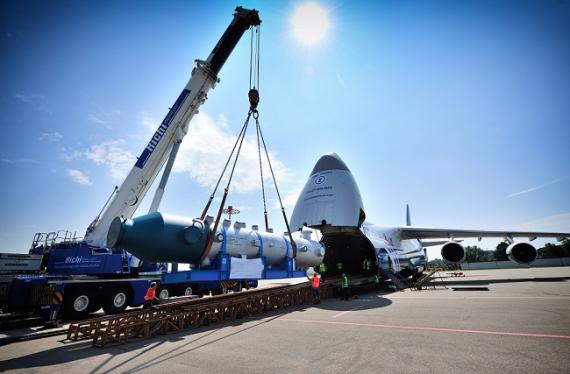 The PCN Head Office is delighted to report another successful collaboration between members. Gebrüder Weiss GmbH, who became a PCN representative for Austria in December 2012 and Fortune International Transport SRL who joined PCN in January 2013 as a representative in Italy, loaded a 70T Italian boiler to be transported to Houston.
Mr Franco Ravazzolo, Project Logistics & Break Bulk Manager at Gebrüder Weiss Gesellschaft m.b.H. explains; "We arranged the transport from the factory of Alfa Laval in Suisio, Italy to Houston, USA, passing through the airports of Zurich and Houston for our client who is a US based chemical industry company. The shipment consisted of 2 methanol distillation boilers, with dimensions of 13,46 x 2,58 x 3,41m and weighing 65.5 tons. In order to arrange the shipment we chartered two AN-124 directly from Polet Airlines, to load one boiler on each plane. We also had to provide custom built steel frames for the air lift, adding another 5.000 kgs to the total weight. The first flight, to which the pictures refers, has been successfully completed, the second will start from Zurich airport on Friday August 9th. Fortune arranged the transport from the producer's factory to Zurich airport, including some very sensitive issues with customs & transit permits. The transport started on Monday July 20th from Italy, to board the AN-124 on July 25th in Zurich, flight departing on July 26th 07:10h local time, with a technical stop in Gander (New Foundland, Canada), to reach Houston on July 27th 05:20h local time, by the early afternoon the boiler was already delivered to the job site, some 20km from the IAH airport. Paolo of Fortune did a great job and this is our first large shipment together with a PCN Member."
Mr Paolo Federici of Fortune International adds: "I was in Zurich, together with Franco of Gebrüder Weiss to supervise the loading of the heavy italian boiler onto the Antonov airplane. We arranged the road transport, the heavy piece with police escort, from Italy to Zurich. Franco chartered the aircraft while his Zurich office coordinated the loading onto the plane."
News of the shipment has already reached the press and is featured in the industry publication Messaggero Marittimo.
Please see below photograph of the shipment.
CONTACT PCN MEMBERS
Gebrüder Weiss GmbH
Bundesstraße 110, A-6923 Lauterach,
Austria
Tel No: + 43 1 79799 7760
Fax No: + 43 5 9006 2600
Web Site: www.gw-world.com
Fortune International Transport SRL
Via Catalani 46, 20131 Milano,
Italy
Tel No: + 39 022 614 6000
Fax No: + 39 022 614 6447
Web Site: www.fortuneitaly.it
Alternatively, please see the Gebrüder Weiss or Fortune International profile page in our Members Area for their full details.