InterMax Logistics Solution with Heavy Rail Transport to Russia
20th June 2016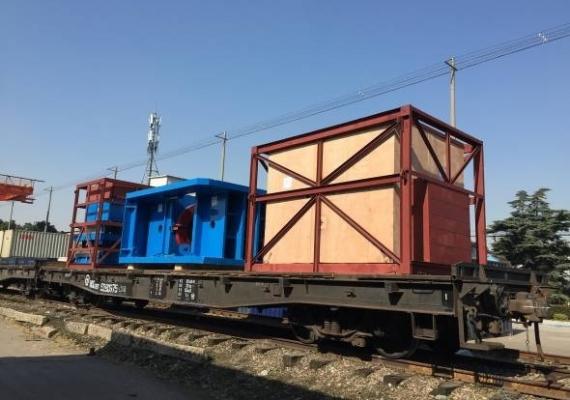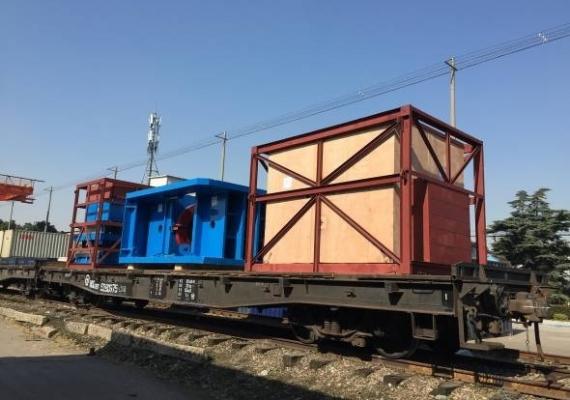 In recent years, InterMax Logistics Solution have strengthened their focus on rail transport in response to the increased demand and development of the railway from China to CIS and Russia.
InterMax have recently handled the rail transport of a hydraulic press and sintering furnace from China to Russia. The cargo consisted of seven units including the main press part weighing 39tns. The parts were packed into three units for the safe lashing and securing on the railway flatcar. The largest of the 3 units measured 3.63 x 3.00 x 2.84m. InterMax had to follow strict guidelines for loading on the flatcar including a total gross weight of below 60tns and a height and width less than 3m. Also, the balance of weight of the front and back sides had to be under 5tns.
Overseas Marketing Manager at InterMax, Ashley Kwan continues; "The 3 units were trucked to the rail station in Shanghai and directly lifted onto the flatcar. The 39tn main press was lifted by steel wire from the bottom of the cargo with two 2.6m long wooden planks placed under the press. The other 2 units were loaded with four lifting points on the cargo. After loading, the staff from the terminal came to check the requirements and measure the shrink distance of the front and back shock absorber which was 0.4cm and all was under control. Wood and stands were raked with iron nails on the flatcar and steel wire was used for the lashing and securing of the cargo."
The entire operation was carried out smoothly by InterMax and the train was dispatched to journey through Manzhouli to the final destination in Russia. Photographs of the cargo on the truck and flatcar can be viewed in the below thumbnail gallery.
InterMax Logistics Solution are PCN members in Taiwan.