JSL Global Delivers CO2 Tanks in Qatar
9th April 2020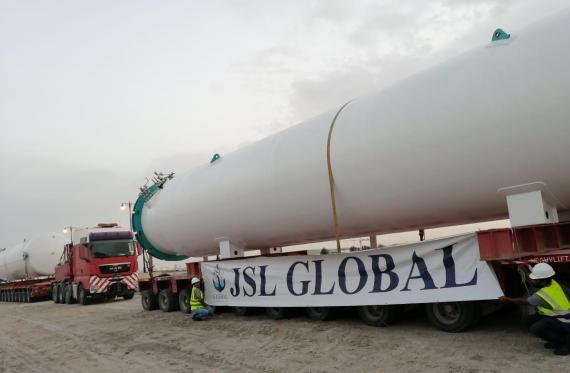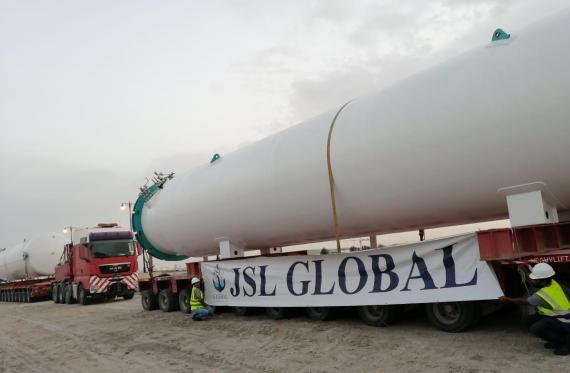 Members in Qatar, JSL Global are pleased to share a recently delivery of 2 x CO2 tanks each measuring 18.0 x 4.2 x 3.5m and weighing 45mt.
Director of Projects & 3PL at JSL, Jigar Shah says; "We hope the PCN family is safe and well and we pray for all who are affected during these difficult times.
Logistics must continue, even in the time of COVID-19 and this shipment of 2 tanks is for a European client who is serving to a Qatar Power Plant in Umm Al Houl. The challenges included:
The shipment was booked as breakbulk on containerized vessel arriving on 26th March at Hamad Port during the ongoing COVID-19 issue.
Considering the ongoing restrictions from the Qatar government and less working times for all private and public entities, we planned to take the shipment on beams to avoid any unplanned delays at the port or at the consignee's site. Our engineering team checked technical drawings and we managed to source the beams to handle the width of cargo and made plans to take direct delivery from the vessel to multi-axle trailer.
The shipment arrived on late on the Wednesday night and the JSL team managed to get traffic department approvals and escort permissions on Thursday morning. As the shipment was urgent for the site, we swiftly arranged the customs inspection and other formalities and took the 2 x CO2 tanks out of the port.
However, because of the ongoing restrictions and most government entities working reduced hours, a Thursday night delivery was not possible and as per usual regulations from the Traffic Department, Friday and Saturday are also not feasible. So we finally managed to get the permissions and police escort as a special case for Sunday and we delivered the cargo at the power plant early on Monday morning.
But on the early Monday morning at the site, there was heavy wind and less visibility so the shipment could not be offloaded using cranes. But JSL had planned for these exceptions from the beginning and managed to offload the cargo using a beams/stools option and helped the client to ground the cargo at the laydown area.
The JSL Global operations team coordinated this project from different sites, offices and homes because during the COVID-19 pandemic, our main team is working from home with just a small operation team present at Hamad Port and the site etc."
"JSL Global would like to thank all concerned parties including Q-Terminal, Qatar Customs and the Qatar Traffic Department who supported this important project during this challenging time."