Khimji Ramdas Completes Haulage & Loading of Pressure Separators in Oman
20th September 2019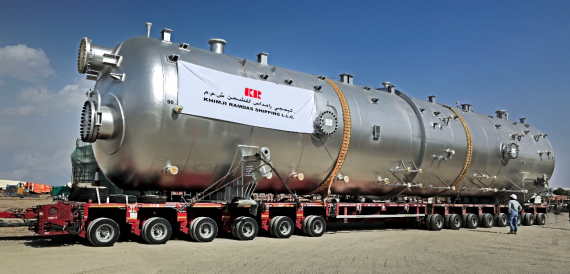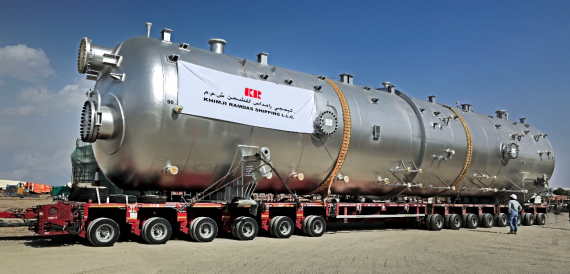 Khimji Ramdas Projects & Logistics Group have recently completed the inland haulage and loading of 5 units of high and low pressure separators in Oman for their export to Kuwait.
The project, executed in coordination with the Ministry of Transport and the Royal Oman Police (ROP), involved 1200mtns of separators transported over 700km from Nizwa Industrial Estate to the Port of Duqm and then the subsequent loading onto chartered vessels heading to Kuwait.
Separators are pressure vessels used for separating an oil well stream into gaseous and liquid components. The separators are the first of their kind to be manufactured and exported from Oman.
While the low pressure (LP) separators were the longest at 27.3m, the high pressure (HP) separators were the heaviest at 322tns. Each piece was moved in consultation with and with permission from the Ministry of Transport and the Royal Oman Police, with police escort vehicles accompanying. Each unit took 4 days on the route and were stored on stools and beams at the port premises until the vessels arrivals before being loaded onto the suitable bulk cargo carriers. Multi-axle trailers with 2-file x 18-axle combinations were used for the inland haulage of the 5 units which had the below dimensions:
3 x LP Separators at 27.30 x 6.40 x 5.78m (160tns each)
2 x HP Separators at 24.10 x 6.40 x 6.15m (322tns each)