Khimji Ramdas Move Consignment of Oversized Bitumen Tanks
10th March 2016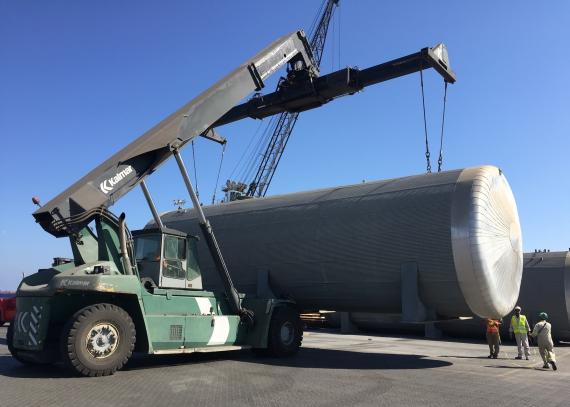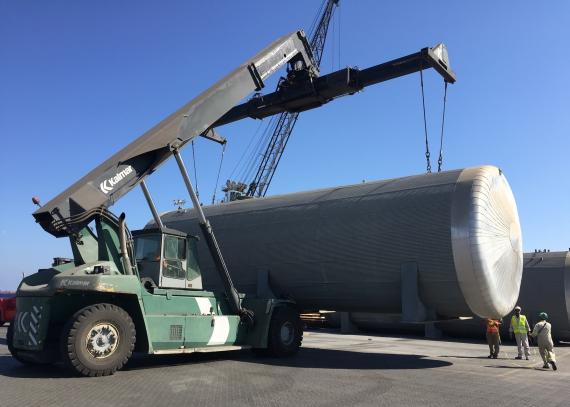 Omani PCN members, Khimji Ramdas Projects & Logistics Group have recently moved a consignment of 8 bitumen storage tanks. The tanks weighed 33tns each with dimensions of 16 x 5.2 x 4.5m and were discharged at Sohar Port before transportation to the final destination site 200km away in Rumez.
Chacko Jose (Assistant Divisional Manager - Business Development) explains; "We were approached by M/S Aspam for a solution to move the 8 bitumen tanks for their upcoming factory when their nominated transporters were unable to provide the service. The factory site is located 200kms from Sohar Port at Rumez, situated on the New Batinah Highway close to the Barkha Desalination Plant.
Our first responsibilities included a study of the dimensions & structure of the tanks, conducting a route survey, identifying hazards & finding solutions to mitigate them and finding suitable transport equipment.
This was followed by a site survey to check the access points to the site for the movement of trailers and cranes. A study on the ground compaction was also undertaken to ensure that there was no 'soft land' within the operational vicinity.
After the above points were ticked off the checklist, the actual planning of mobilising the units began including arranging police permissions for a night convoy of trucks using lighting escorts and police cars to accompany them the distance from port to the final site. Due to routing and convoy restrictions, the tanks were moved 2 at a time with the escorts and the whole transportation was undertaken within the window of 00:00 – 05:30, in accordance with the mandate set for transportation of OOG cargo on highways.
With our careful planning and scheduling, the entire transportation and offloading onto customised plinths at the site was completed in a 6-day time frame, uneventfully and in a safe manner.
Khimji Ramdas Projects & Logistics Group are proud to be contributing to Oman and its economy in moving forward."
The tanks are photographed in the below thumbnail gallery.