Noble Shipping Services Succeed in Heavy Lift Project
14th November 2022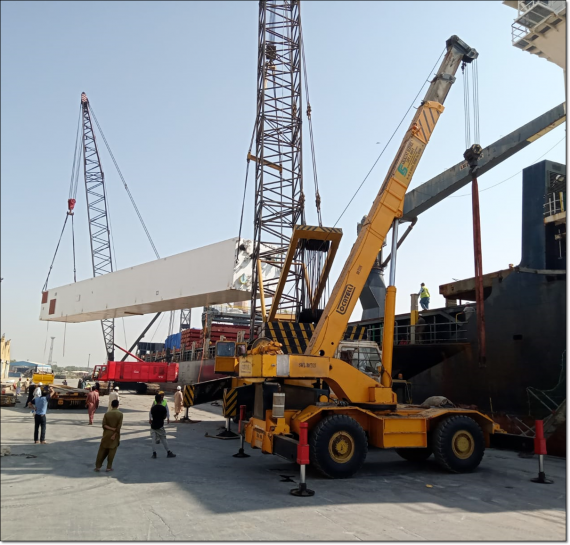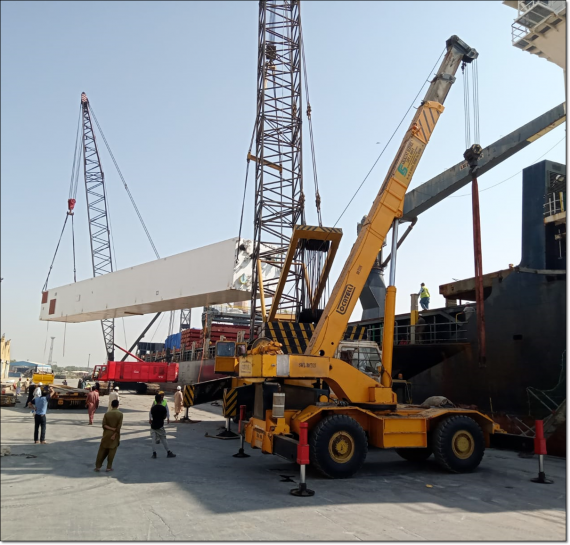 Noble Shipping Services, our members from Pakistan, are pleased to share with us the details of a recent heavy lift shipment they discharged at Karachi Port using mobile cranes.
The cargo being transported involved 9 packages, a total weight of 190 MT and a total volume of 1,300 CBM. Read further for a more comprehensive view:
On top of the commodities, one package qualified as heavy lift, weighing an impressive 126 MT with measured dimensions of 41.2 (L) x 4.7 (W) x 4.05 (H) m.
The vessel arrived in Karachi Port on the 9th of October and berthed at the West Wharf in the same day. The 10,000 tonner was geared with two hydroelectric cranes on its starboard side, but due to the work load being unsafe, two 300 MT mobile cranes were deployed instead.
Assembly of the two mobile cranes took more than 24 hours because the booms and counter weights had to be assembled at the designated berth.
When time came to transport the heavy commodity, the vessel was re-berthed port-side to keep the ship's crane clear of the cargo operations, and to facilitate the discharging of the heavy lift cargo.
Due to the scare availability of heavy cranes, spreader beams, H/L slings and more, booking was made some 15 days prior to the arrival of the vessel. Several meetings were held between stake holders at the company to finalise their 'Rigging and Discharging' plans, commensurate with the safety of the ship, cargo, pier and personnel involved.
Special attention was granted to the ship's stability, since the heavy cargo was displaced from the ship's center line. It was lifted carefully and steadily; perfect synchronisation between the crane operators ensured a safe swing around and finally a landing upon the consignee's multi-axle trailers for onward delivery.
"We look forward to sharing with you more interesting cases of us handling heavy lift cargo in the future!"