Over 1820 Individual Meetings at PCN's 11th Annual Assembly
1st December 2022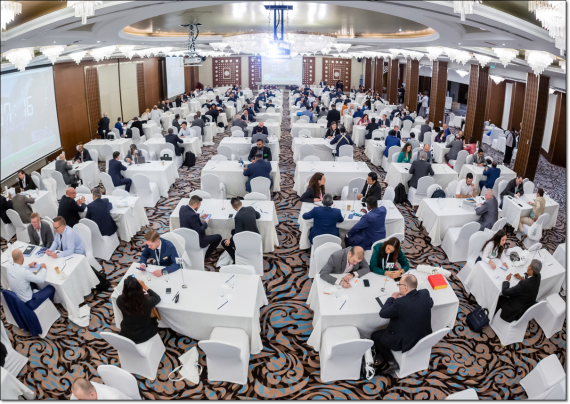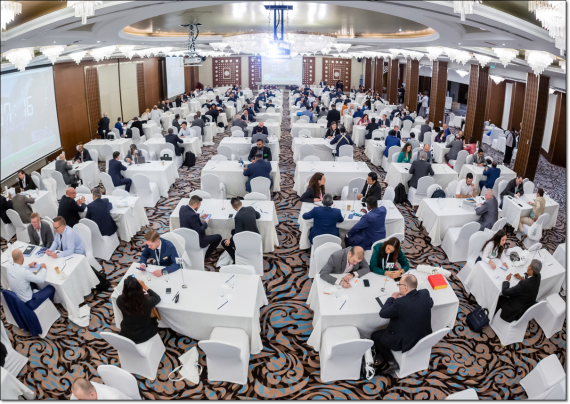 Over 185 C.E.O.'s and Senior Managers from more than 95 countries recently attended our 11th Annual Summit, which was held from 27-29 November 2022 at the Radisson Blu Hotel, Dubai Deira Creek. See photos.
Please see photos from our Welcome Dinner, Meeting Room and Gala Dinner.
Our gathering saved our Members substantial time away from their offices as well as considerable travel expenses by being able to meet together in one place at the same time.
After a challenging 2 years, it was wonderful to see each other in person again! We celebrated our 12 year history, alongside Members new and old on an exclusive Dinner Cruise where we enjoyed a two-hour cruise on a traditional Wooden Dhow with an international buffet dinner from the 5-star hotel catering team.
The official meeting was opened by C.E.O./President, Rachel Crawford who welcomed delegates (important sections of the speech are held in our Members Area) and with the World Cup running alongside our event, delegates enjoyed challenging their fellow Members to a game of table football or pool.
The past few years has seen a huge surge in the popularity of video as a marketing format. Video can be a powerful way to spread a message in a way that is easily accessible to a large audience. Plus, customers are more likely to use a company when they understand what they do and how they can help them.
PCN have created a video for Members to use in their marketing and sales efforts. Delegates watched the video and were invited to include a link to the video when sending emails or quotes to their customers, or to share it on social media. They may also embed the video into their website by using the code provided by the PCN Head Office.
---
---
The Annual Awards were presented, calculated from the results of the recent Quality Control Survey. So that the awards are fair to smaller markets, results are calculated using a ratio of how highly the company scored against the number of Members they work with. The winners were:
International Member of the Year.
Thunderbolt Global Logistics
Regional Award for Middle East & Africa
Afriguide Logistics (South Africa)
Regional Award for The Americas
Convoy Logistics Provider (Canada)
Regional Award for Asia & Pacific
Central Oceans (Singapore)
Regional Award for Europe
Europe Cargo (Belgium)
President's Awards
Gebruder Weiss (Austria)
Canaan Shipping (Canada)
Delegates then got down to business and held numerous 1-2-1 meetings with each other, aided by the PCN Countdown Clock and their pre-arranged Meeting Hub schedules. In total over 1820 meetings took place over the 2 days!
During these sessions delegates were able to exchange information, review current and upcoming government and private projects in the manufacturing, oil and gas, infrastructure, construction, power, and energy sectors.
After a busy day in the meeting room, it was time to relax! Delegate were taken to an exclusive Beach Party at the stunning Dubai Marine Beach Resort. Overlooking the exquisite Arabian Gulf waters and set against the stunning panoramic views of Dubai's skyline, it was a great venue for us to relax after a busy day in the meeting room. The delicious dinner was washed down with an open bar and the evening provided the perfect opportunity to hang out together in an informal setting … and of course ended with lots of dancing!
Shodesh Shipping in Bangladesh kindly sponsored our Conference Bags. Tandem Logistics in Tunisia sponsored our lanyards. Our coffee breaks were sponsored by Upcargo in Panama, Canaan in Canada, Freja in Denmark and Kimex in South Korea. Our water bottles were sponsored by WRL in Australia and our Pool Table by Cargowise.
---
Next Virtual Event: 17-21 April 2023
In between our annual face-to-face events, the PCN team allocate a series of consecutive days where all Members are invited to participate in virtual meetings (at no extra charge). Members can set their local time zone and then instantly view the agenda so that they can make themselves available or unavailable in the dedicated meeting slots. The next Virtual Meeting event is from 17-21 April 2023 - the perfect opportunity to follow-up on our face-to-face meetings! See our Meeting Hub.