PCN Coverage in September/October 2016 edition of HLPFI
21st October 2016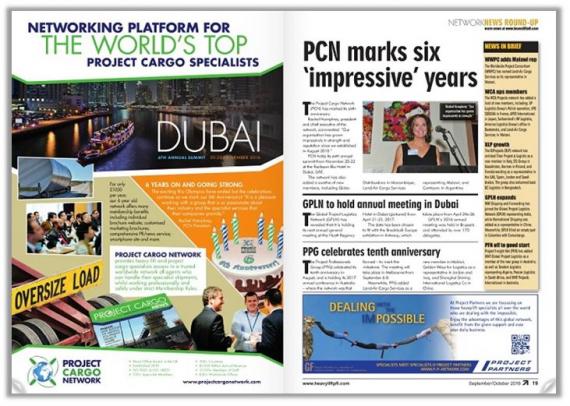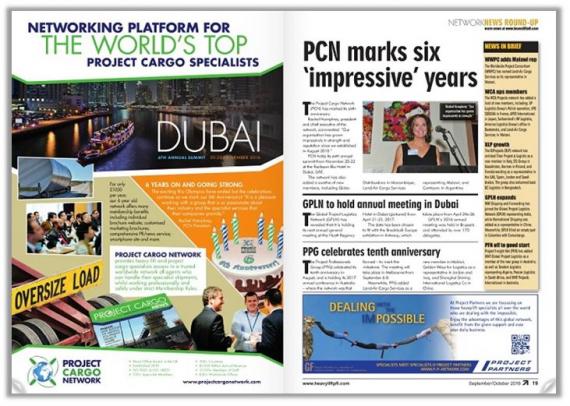 Have you seen our full-page advert and editorial coverage on page 18 and 19 of the September/October 2016 edition of HLPFI?
First published in 2007, printed copies of HLPFI are distributed by airmail and a link to the digital edition is sent via email to more than 16,500 companies including owners and operators of heavy lift equipment and facilities, specialist freight forwarders and companies involved in the development of infrastructure for energy, mining, civil engineering, oil and gas, offshore, and industrial manufacturing facilities.
Written by an international team of award-winning journalists, HLPFI delivers essential information about the movement of such cargoes across the whole range of transport modes.
We invite PCN Members to view the Editorial Programme on page 3 of their 2017 Media Kit as there are opportunities to obtain free editorial coverage if you have something relevant to share with the HLPFI editorial team and the readers of the magazine.
Editor, Ian Matheson says "We are always looking for interesting company news, as well as insight and opinions. Your members just need to send us an email with any ideas that they have for editorial content."
Ian can be contacted directly on ian@heavyliftpfi.com.