Project Experts in Morocco - Lasarte Maroc
9th September 2020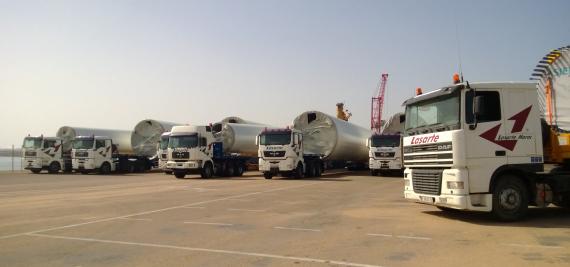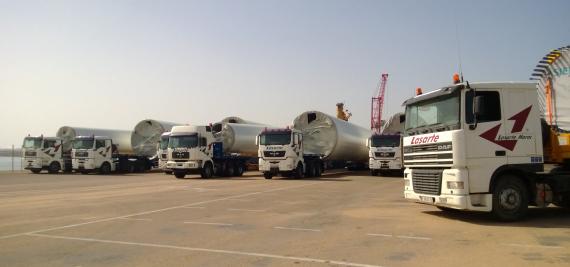 We are pleased to introduce Lasarte Maroc as new members in Morocco. With offices in Tanger and Rabat, they have their own fleet of vehicles and equipment and have been entrusted with many projects and port operations in Morocco due to their expertise and renowned success in performance.
Their main services include oversized and heavy transport, port operations, transport engineering, feasibility studies, crane operations, civil works on roads and other additional services. Lasarte is an undisputed logistics leader for wind-power in Morocco and offers a wide portfolio of integral services for project cargo.
Key Account Manager at Lasarte Maroc, Víctor Gutiérrez introduces the company; "We have gained a wide experience in successfully handling big cargo projects, accompanying multinational companies as a forwarder for their projects in Morocco including Siemens Gamesa, General Electric, Acciona, Vestas and many more.
The main aim of Lasarte Maroc is to cover the needs for special, customised freight transport for projects in Morocco. Among all the sectors we operate in, the most important are the industrial and the renewable energy sectors, mainly wind farms, which is a field pioneered by Lasarte where we have been providing expert and reliable services for. The best example is the windfarm in Tarfaya, in the Western Sahara. The park has 131 generators, making it the biggest windfarm in Africa that was setup in one single phase. It was served entirely by the Lasarte Group, professionally, safely and within the set deadlines."
"Whilst we have been quite focused on renewable energy, we are capable and ready to handle projects for a range of different industries and clients. In a market such as Morocco, which is in constant development and where important plans in the fields of development, industry and energy are necessary in the coming years, Lasarte Maroc is the best choice when it comes to implementing these plans with the high quality services we provide.

Lasarte has the necessary equipment, extensive knowledge and qualified personnel to undertake any project entrusted to us."
Please see the below videos and gallery for some recent projects handled by Lasarte Maroc for General Electric, DSV and Siemens Gamesa. Their scope of work for the projects included discharging vessels, shifting, reloading, transport, loading & offloading, storage, port operations & arrangements, feasibility & route studies, civil works, documentation, permissions & licences and crane services.