Sadleirs & First Global Ship 4 Seismic Vibrators
8th May 2014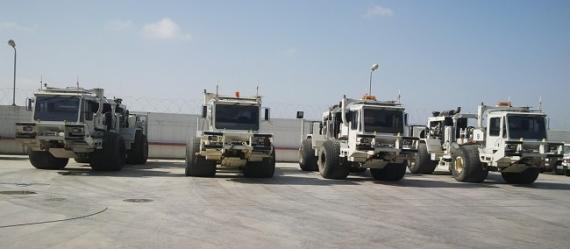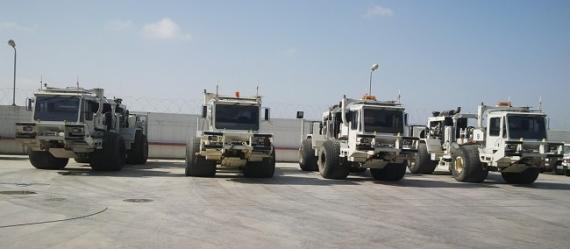 Sadleirs Global Logistics (PCN Australia) and First Global Logistics (PCN Egypt) collaborated to ship 4 Seismic Vibrators (10.2x3.45x3.25 m and 30500 kgs each) located in Shlumberger Yard in Alexandria Free Zone. The job was completed in 2 shipments and travelled on the same vessel, Jakarta Express, using 1 x 40'' Flat rack & 3x 40'' Flat rack by 2 different bookings on CMA-CGM.
The scope of work included:
Loading 4 Vibes on Low Bed Trailers from Shlumberger Site in Alex Free Zone to Warehouse in Damietta.
Producing 8 assisting Iron sheets to be spread in the 4 Flat racks to support the Vibes Wheels.
Trucking the 4 Vibrators from Warehouse to Damietta Port.
Loading & Lashing the 4 Vibrators from Trucks onto 4 Flat rack Inside Damietta port to be near the Vessel for their safety and easy loading on Board.
A representative at First Global Logistics said "The loading plan which we agreed before taking action totally changed when the situation was real. Firstly, our plan was based on 6 hrs loading and lashing the vibes onto flat racks at the shipper''s site then trucking the containers on low bed trailers to Damietta port, catching the intended vessel "Jakarta Express". While in reality we discovered that due to the wheel''s massive dimensions, it was unsafe to move on our plan. The team implemented Plan B, which was to truck the cargo to a warehouse in Damietta and complete the job inside Damietta port. After gaining permissions from the competent authorities, producing 8 iron sheets to be put underneath and support the huge wheels, the mission was successfully accomplished when cntrs were loaded on the same vessel after ensuring its safety."