The Latest Graduate from our PCN eLearning Platform
16th January 2018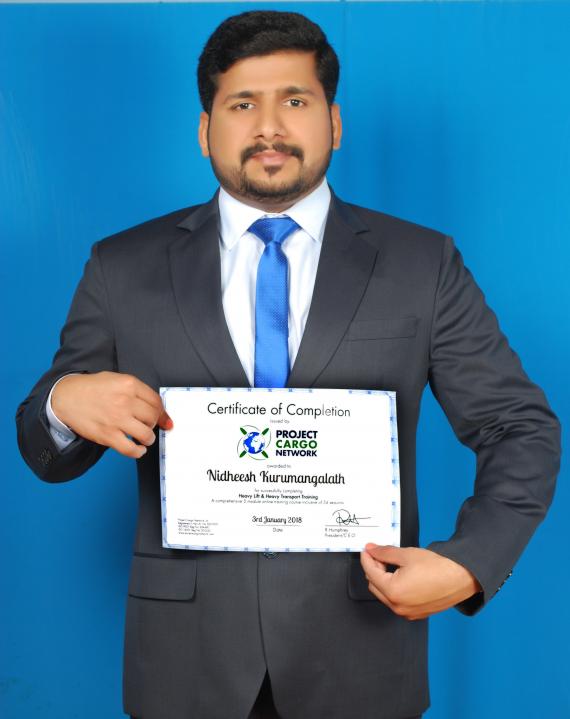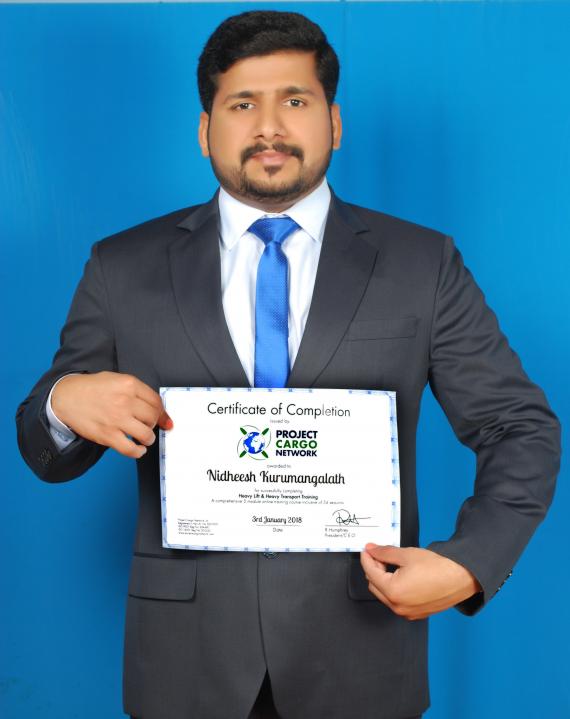 We are delighted with the success of our online training program – to date nearly 100 staff members have signed up for access to our exclusive eLearning platform. The clear and highly effective 6 module online course consists of 66 x10 minute sessions which cover industry terminology, dimensions, weights and forces, heavy transport, heavy lifting, jacking, skidding and loadouts.
The latest student to successfully complete all 6 Modules is Mr Nidheesh Kurumangalath of Khimji Ramdas Shipping LLC in Oman (pictured) who said…
"The course was lengthy, but I never felt bored. There is no time limit for completing the course which is good for understanding each session very clearly. We can study the course after office hours with peace of mind. As a beginner in our Project Cargo Department it's very useful for me, no doubt. Thanks, PCN" Nidheesh Kurumangalath, Khimji Ramdas Shipping LLC, Sultanate of Oman
The eLearning platform is ideal for staff who are at the beginning of their career in heavy transport, offering employers a time saving and low-cost alternative to workshops and seminars. However, as the training is comprehensive, senior level professionals will also benefit from the practical, scenario and video based course as it will encourage reflection on current practices.
"The training platform is affordable and delivers information that is excellent value for money. Marco's knowledge on the subject matter is evident, and he presents the information in a clear and concise manner." HLPFI read full article
See our online brochure for full details.