Membership Benefits
Project Cargo Network is an ISO 9001 and ISO 14001 certified organisation established in August 2010 to provide heavy lift and project cargo specialists access to a trusted, worldwide network of agents who can handle their specialist shipments, whilst working professionally and safely under strict Membership Rules.
To ensure that we recruit the top specialists in our industry, membership is only open to companies who can pass our strict entry procedure. This includes submitting a case study that proves that they have the capacity and experience to handle full scale project cargo and/or heavy lift shipments. Applicants must also submit the contact details of two forwarders or break bulk specialists who have acted as agents for their company within the past year specifically on heavy lift/project cargo. To maintain these high standards, we also carry out an annual Evidence Audit on our entire membership (see latest results). Please free to download our FAQ Brochure.
Our company video provides a clear message of the quality, scale and specialist services that our network offers.
Our well established network is built on mutual trust and shared knowledge and provides many unique benefits for a low Annual Fee of GB £1050, including:
CAPPED NON-EXCLUSIVITY POLICY
Our policy is to allow no more than 3 companies in each country (5 in Australia, Brazil, Canada, China, India, Turkey, UAE & USA). This policy is important because a non-exclusive membership produces a higher level of business for the whole network and Members have a better chance of finding a compatible company to work with for each individual project. However, it is important not to become such a large organisation that any familiarity is lost. Our membership enjoys the flexibility of a non-exclusive network whilst at the same time maintaining the unity and friendship of an exclusive network. In addition, our members are not required to annul established agency relationships. We simply ask that all new business is first offered to fellow PCN Members for quoting.
"The capped exclusivity makes a good compromise between only having one option for a service provider in any market versus having a multitude of competitors fighting for the same piece of business, and made it one of the deciding factors for Wilhelmsen Ships Service to join." Flemming Andersen, Wilhelmsen Ship Services
INDUSTRY TRAINING
Our clear and highly effective video based training includes narration, graphs, diagrams, video footage and photographs. When completed, the user will understand the practical, operational and engineering aspects of heavy transport and lifting projects. The training is ideal for staff who are at the beginning of their career in heavy transport, offering employers a time saving and low cost alternative to workshops and seminars. However, as the training is comprehensive, senior level professionals will also benefit from the practical, scenario and video based course as it will encourage reflection on current practices. Each user receives a personal log-in so they can train at their own pace. For more details, see our eLearning Platform.
ONLINE NEWS/PR SERVICE
We offer our Members a dedicated news service. Upon request, we prepare an online article which is then published in our Network News section. Each article appears automatically on our Smartphone Service and published in our Blog, Digital Newsletter, LinkedIn and Twitter. News articles related to each company are also linked on their profile page in our Members Area and their PCN Marketing Website as well as distributed to our Press List. This PR service provides fantastic promotion and is included in our Annual Fee. And it works! As a direct result of the exposure provided by our News Service, Brunel Project Cargo were interviewed by mainstream media including CNN, Reuters, BBC, Bloomberg and ITV (read more).
INDIVIDUAL BROCHURE WEBSITE
PCN has created brochure websites, customised for each of our 235+ Members and based on a company specific URL. The brochure websites showcase online the huge capacity that PCN and its Members have for handling project cargo and heavy lift shipments. The sites are designed in a collapsing responsive design so that they scale automatically on smartphone and mobile devices. There is no cost to Members – this benefit is provided free of charge. All Members are issued with their unique URL and the full can be viewed online.
COMMUNICATION SERVICE
All Members in each country are allocated a dedicated email address to encourage faster communication and help develop a common identity. All email sent to the designated address is automatically forwarded to all PCN Members in that given country to answer. The advantage of this system is the ability to obtain rates from several overseas offices in order to select the most well-matched and compatible company to work with for each individual shipment.
"We had been looking for a network with a different attitude and approach. After several talks with the management of PCN, we realized that the organization perfectly matched our vision of what a network needs to offer its members; a dedicated team of professionals that simply help to bring together the best experts in shipping project cargo." Abraham Van Olphen, Managing Director, Central Oceans
SMARTPHONE SERVICE
Our Smartphone Service enables our Members to have a good experience with our website whether on a large PC screen or on mobile devices. The contact details of Members can be found quickly and easily by searching in alphabetical order by country or company name.
The News Feed features our latest articles and not only provides excellent promotion but also enables users to keep up-to-date with their overseas partners. Full details of our next Annual Summit are also available on the Smartphone Service. Version 3.0 is now available at m.projectcargonetwork.com and is for use by PCN Members only. The password is provided upon joining.
MEMBERSHIP RULES COMPLIANCE
Abidance of our Membership Rules is essential for the professional and efficient operation of PCN and its Members. Any official complaints are reviewed by PCN Management in accordance with our official ISO 9001 and ISO 14001 approved procedures. All final decisions are reached fairly and consistently, without bias or prejudice, in representing the interests of PCN and its Members.
"We are very aware of the fact that a project shipment can only be successfully completed if the people working on it show enough confidence and experience and are passionate about what they do. In order to achieve this, it is more than important to be part of a strong, worldwide network of freight forwarders who are professional and reliable at the same time. We are convinced that being a member of PCN allows us to achieve these goals together with our fellow members." Ramona Duckstein, Manager, GRUBER Logistics (PAO) GmbH, Germany
RAISING THE STANDARD
As our network is led by quality and we have grown to a substantial size, we have introduced a Gold, Silver & Bronze scheme. The scheme is a focused approach to support Members in achieving the optimum benefits of belonging to our organisation in a practical, logical way. Our experience is that the most active Members are often working at the highest level and reaping the most benefits of membership. We want to encourage all companies to work to this standard as this will result in more business and opportunities. Members are provided with clear criteria on how to either maintain their Gold status or how to work up from Bronze and Silver to Gold.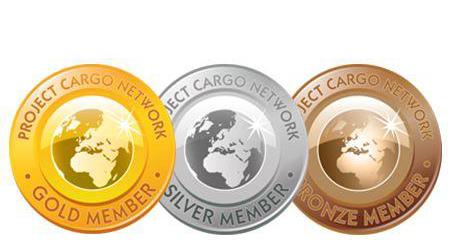 ADVERTISING & QUOTE REQUESTS
Due to our continued efforts with search engine optimisation, our targeted advertising campaign with Google, our full page advert in HLPFI and rotating top leader-board web banner with Breakbulk, we aim to drive new business and customers to our Members. Our website is not only visited by forwarders looking for project cargo specialists, but also for customers looking for quotes. All leads received from our Quote Request facility are forwarded directly to our Members.
ANNUAL QUALITY CONTROL
We continually monitor the quality of service of our Members to ensure that we have recruited the right companies, who perform in a conscientious, diligent and professional manner. Our Quality Control Survey asks for our Members' opinion on the level of service that their fellow PCN overseas offices are providing. Consistently poor performance records will not be tolerated within the network. Also, PCN membership is only open to companies who have proven that they have the capacity and experience to handle full scale project cargo and heavy lift shipments so we also carry out an Evidence Audit every 12 months (see latest results).
PAYMENT MONITORING SYSTEM
It is important to encourage healthy cash flow within our network and to prevent late payments. The PCN Head Office consulted both specialist lawyers and insurance companies to investigate the best options in which to financially protect our Members, including bond systems and group liability insurance programs. The outcome is that they can in fact be highly illegal, have complicated tax implications but more importantly, be open to fraud. Therefore, we provide an online Payment Monitoring System. Once logged in each Member can add, view and edit details of open invoices. The system automatically sends a fortnightly statement to every Member detailing any open invoices and highlighting their due date.
MARKETING BROCHURE & INTRODUCTION SERVICE
The customised brochure is a cost effective marketing aid, designed to give customers the confidence to rely on PCN Members for their heavy lift and project cargo shipments. We also work closely with Members to identify new clients in their respective countries, assisting in setting up meetings and providing relevant information in order to secure new contracts by providing an official Tender Letter, highlighting relevant services. This service enables Members to be formally introduced to potential customers in a professional manner.
TESTIMONIAL FROM MEMBER
"We have been working with Project Cargo Network for the last 5 years and have been extremely impressed with the various initiatives that Rachel's team has been doing. As most of you know, the economic global situation is changing, and thus finding reliable partners overseas who has the knowledge of projects is not easy. Therefore, we have relied on PCN as a vehicle to find some of these partners. Furthermore, Rachel as the CEO of PCN has been extremely entrepreneurial year over year in providing the essential tools to help companies become more relevant in the technological changing world. For example, we have tools such as: PCN App (access to agents) on phone, continuous marketing in various trade magazines, wonderful meetings each year for networking, and most recently the e-learning platform. We encourage you to apply to the PCN network if you have the opportunity to do so." Patrick Lo, President & CEO, Canaan Group
HOW TO APPLY
Full completion of our Application Form together with 2 references from forwarders or break bulk specialists who have acted as agents within the past year specifically on heavy lift/project cargo. As PCN is only open to companies who have the capacity and experience to handle these specialist shipments, each applicant is required to submit a case study which should include photos and a description including the commodity; an outline of the steps taken and the mode of transport; challenges and how they were overcome; and a sentence on the final results. We also require a copy of the Bill of Lading and/or Notice of Arrival and other supporting documents (names and addresses redacted if preferred) but showing your company name and your role in the movement along with dates.
If your application is successful, you will be invoiced the Annual Membership Fee of GB £1050.